In the last week, all 10 University of California campuses statewide have been rocked by what organizers call the biggest academic strike in U.S. history. About 48,000 graduate student researchers, graduate student instructors, academic researchers and postdoctoral scholars have walked off their jobs demanding, among other things, an end to the rent burden they currently face.
The Daily Californian senior staff writer and editorial board member Lee Xuan sat down with two members of UAW 2865 to discuss the university's bargaining practices, the solidarity the strike has enjoyed and how undergraduate students might endeavor to make sense of it all.
The Daily Californian: Let's begin with a brief introduction. Tell me about yourselves, your organization, what you're doing and why.
Rosamond Herling: I'm Ros Herling. I'm a rank and file member of UAW local union 2865, which means the ASE unit of our union — that's Academic Student Employees. I'm a GSI here at Berkeley and a PhD student, and I teach language. Our organization's intent is basically to get us better working conditions so that we can provide better learning conditions for our students.
Alexandra Michaud: I'm Alex, I'm also a PhD student in the Slavic department, I'm a GSI. I teach Reading and Composition, but I'm also a rank and file organizer with our union.
DC: Why is this strike happening now?
AM: Well, we — that is, local 2865 — started renegotiating our contract with the UC in March, and last spring 2865 presented a proposal for wages for GSIs, tutors, readers and teaching assistants that would address the condition of rent burden that we all experience as employees at the UC. UC ignored it and has really shown no willingness to negotiate on this wages proposal and several other ones. Since then, they haven't given any serious offers, and this is actually illegal. This is what's called an unfair labor practice. What's illegal about it is that when you bargain over contracts, you're supposed to make movement toward each other at the bargaining table, and the UC has just outright refused to do this.
At this point, we can't do it anymore — we can't live like this. This contract needs to be renegotiated and resolved as soon as possible so that we can live where we work; so that we can live not only where we work but with a minimum level of dignity. There are other proposals that the UC has also refused to negotiate on that also address this problem, one of them being that, for student parents, the UC does not provide additional funding for student workers who have children to get childcare for their kids, which, when you work full time, isn't a choice, an option or a luxury; it's necessary. The UC right now only pays enough for a working parent to purchase a month of the UC's own childcare program.
RH: Our unit, the ASE unit 2865, is not the only unit currently trying to get the university to bargain in good faith. We also are on strike with the SRU union, which is the Student Researcher Union; and then also the post-docs. We all have slightly different demands, because we all have slightly different contracts, but they're all in tandem and we're all faced with the same problem with the UC just refusing to work with us. And so we're on strike together to increase our numbers, and to hopefully make some actual movement towards our contracts.
We have student parent issues, we have rent burden as our major problem, and there are a few other things we are bargaining for as well, including transit. As anyone who lives in the Bay Area knows, this is a major issue; it's very difficult to get around here, and it's important for us to be able to actually make it to our workplace, and so that's another thing we're bargaining for right now.
DC: The university stated, on their website, I'm going to quote: "Throughout negotiations, UC has bargained in good faith and listened carefully to UAW priorities with an open mind and a genuine willingness to compromise. In fact, many tentative agreements have been reached on key issues such as a respectful work environment and health and safety matters. UC will continue its good-faith efforts to find solutions with the UAW at the bargaining table." What is your response?
RH: Uh, LOL.
AM: Patently false. Patently false. I have been present at every bargaining session since the spring, and I haven't seen the UC volunteer anything that they aren't forced to concede. They don't take anything seriously. They are trying to wait us out — they think that they can outspend us, they think they can outlast us, but they can't. They didn't think we would go on strike, and they didn't think that we would go on strike with the numbers that we have, and they don't think that we can stay on strike for as long as we can.
RH: I would add that, yeah, I've also been to quite a lot of bargaining and I've observed conduct of the University of California's labor negotiators at the table. I'm going to be very blunt — I don't know if we can swear in your newspaper.
DC: You can.
RH: They treat us like s— on the bottom of their shoes. It's very boldly insulting, their conduct toward us, and the intention is to demoralize, right? To make us feel like we can never stand up to them because they're the bosses and we are just nothing. One of the most shocking moments for me at the bargaining table … They've said to us, at the bargaining table — this is not going to be an exact quote, because it was a while ago now, but — one of UC's labor negotiators said to us, when we were talking about the major problem that UC has with sexual harassment, coercion and assault of workers here, that that is a workplace occupational hazard that they can't be expected to do anything about, because it's just part of working in higher ed. That, at any university, there's going to be sexual assault on the job, that that's normal, and we shouldn't — don't have anything to complain about … we can't live like this, we can't work like this, we can't teach like this. (It's) just a risk to everyone who works and studies here that they would even think that, let alone say it to us in official bargaining. And so that's the level of good faith and respect that we're dealing with from them.
AM: Completely shocking. That said, we did reach a tentative agreement on that article that has significantly expanded protections for harassment and discrimination and other various behaviors that have been loosely grouped under the term "bullying." Our protections against mistreatment having to do with sex and gender, but also race, caste, class are much stronger, there's a lot more categories of behaviors that are now prohibited under our contract, which is really heartening and we're really glad about it.
RH: Which just goes to show that, when they actually bargain with us, we can get things done.
AM: They can bargain with us anytime they want.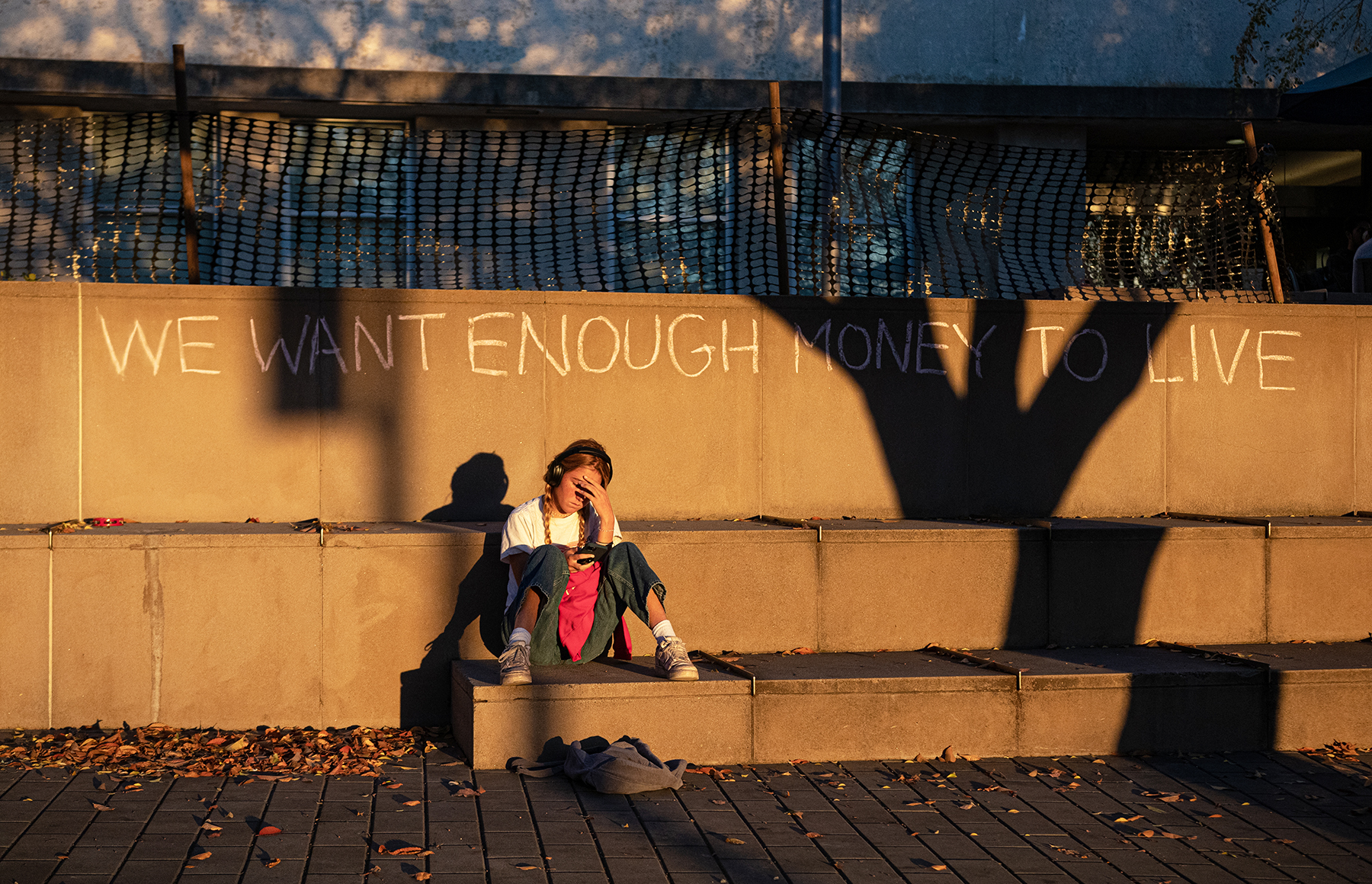 DC:  In your experience, what has the university response to the strike so far been like?
AM: Well, they know what they're doing. It's quite unusual for an employer not to attempt to avert a strike before it begins, and we saw on Sunday, the night before the strike, they did bargaining sessions with two of the four units on strike but offered them nothing substantial on the central demands we've posted and they've been aware of for months and months. They repackaged and reoffered the same wages proposal that they offered weeks ago and expected that — I don't know what they expected, but I think they didn't think that we were really going to go out.
RH: Yeah. Basically, we're calling their bluff, and it doesn't look like they've decided what the safest response for them is yet. But I have no doubt that once they find their best avenue they're going to try to take it, and we're going to have to fight back. Because the University of California is a huge employer, a huge landlord, and they have all kinds of money and all kinds of legal counsel, and they are very, very good at trying to break the will of workers. Fortunately, we have quite a lot of will.
AM: We're very very angry.
DC: Hopefully on a brighter note, what do you think the biggest accomplishment of the strike has been so far?
RH: Honestly, it's been amazing seeing so many people come out.
AM: And so many people working so hard to make the picket line a comfortable, safe and joyous place to be. All these people are coming out of — An occasion like this inspires the best in the best people, which has been really, really, really amazing. For instance, our comrade … in East Asian Languages and Cultures, a GSI in that department, a PhD student, has almost single-handedly devised a way to get restaurants and local grocers to donate food to the picket line, and she gets up every morning and she goes around all the picket lines and feeds people. We have a communist calligrapher who has been making those incredible signs that you may have seen — she goes out every day with her supplies, and she makes these incredible banners for people.
DC: Given all this and having seen the sheer amount of support the strike has received … Where do you see the strike going in the coming days?
RH: We really appreciate all the support from undergraduates and from faculty and from lecturers, and just everybody supporting, in their own ways — we also have been really appreciating support from other local unions like the Teamsters, who are delivery truck drivers, and also statements of support from longshore and warehouse unions. It has been really amazing to see and there is something kind of magical — not to overplay, overstate it here — but there is a kind of ecstatic thrill when you see a giant truck drive up to your picket line at four in the morning and you chant, "On strike! Shut it down!" and they raise their fist out the window, lean on the horn and then drive away.
There is a kind of collective energy that's been really wonderful to experience from everyone as we're trying to make UC a better place to work and a better place to study. And I think that that momentum is honestly just growing. I think we're not at the peak of our strength striking right now; our strength is going to continue gathering as the semester wears on, because time is on our side here. And we're really in early days yet, and so this is a slogan we chant but it's also very true: "We strike to win, and when we strike we win." That's what I'm expecting to see.
AM: I agree. And I would like to add that the longer the strike goes on, the more leverage we have against the UC. We are not going to stop striking until the UC offers us a living wage. Our demand is 54K per year, which is the minimum you need to live in this area and it is the bare minimum.
RH: This is based on median rent; this is all very calculated.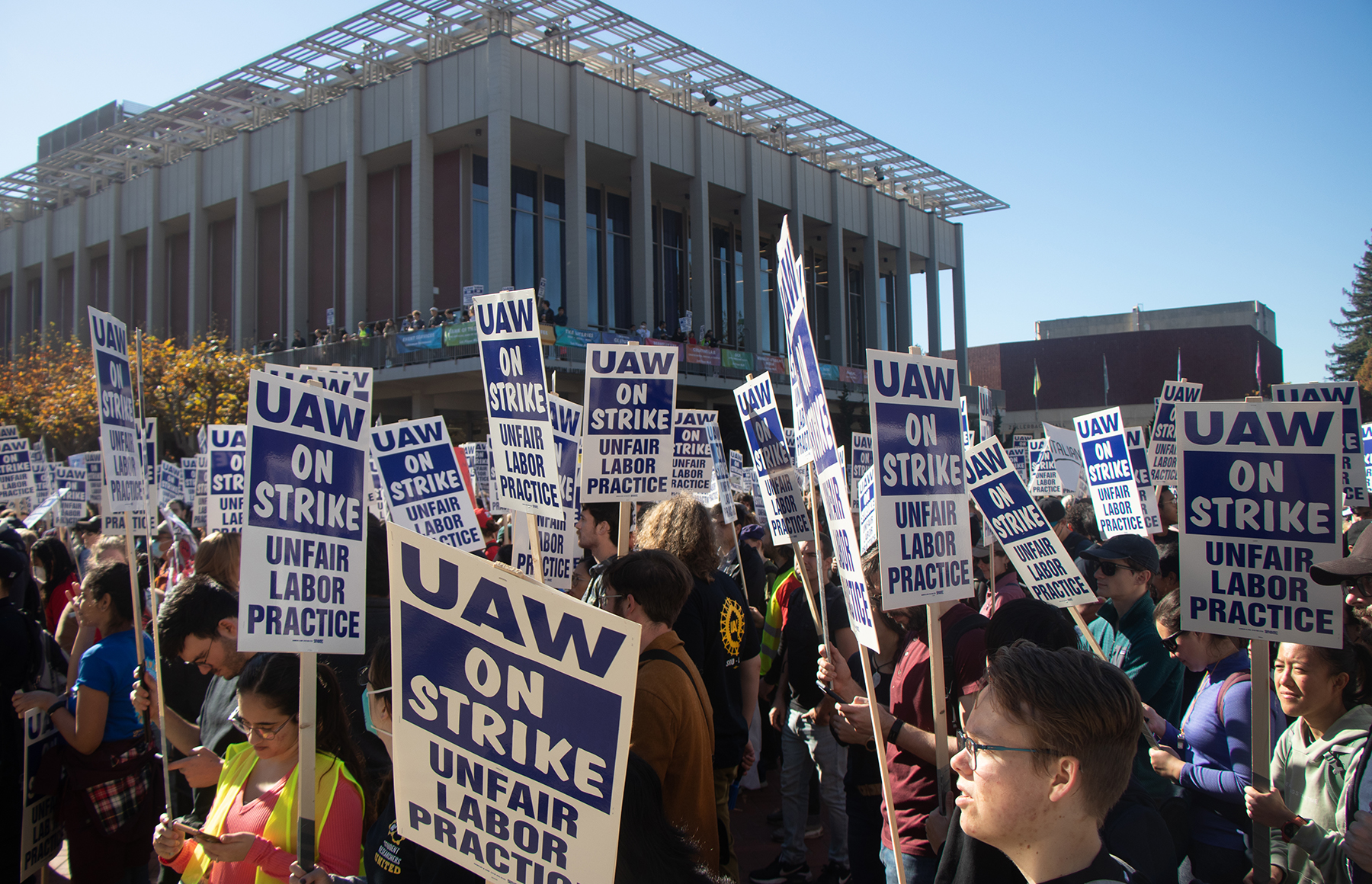 DC: Some undergraduate students, I've just heard around, are concerned about their grades and how they're going to be impacted either because GSIs and readers are striking or because they've felt compelled to cross the picket line, especially for attendance grades. I've personally seen a screenshot of a bCourses message of a professor saying that if you're going to want to not cross the picket line, that has to be at a cost to you for it to not be symbolic, so I will penalize you. … to these undergrads who may be nervous about these things, what would you say to them?
AM: I would say that, first of all, it's really really shocking and disappointing that some of our colleagues who are tenured faculty and maybe even some people in lecturer roles are not respecting our picket line, and that's their responsibility, not the students'. Undergraduate students, when they come onto campus, they don't come here to work; they come here to learn. They are not crossing the picket line; their professors are. No one in our union, none of the grads and none of the postdocs, is suggesting that undergraduate students are crossing the picket line when they do that, especially when they're being coerced. And shame on professors who are forcing their students to do that.
RH: My basic message to undergraduates would be we're on your side, no matter what management says to you. We're striking so we can work here so we can teach you.
AM: Absolutely. One other thing I would add is that, as far as undergrads being concerned about their course credits and their grades — first of all, the UC can come to the table and make us a serious offer, and offer us a decent contract that's fair, any time they want. … The ball is in their court.
Second, grades will be posted when the strike is over. The last time that an action like this took place at the UC, grades were delayed and no undergraduates were penalized for this. No one lost financial aid, no one lost the right to do sports, no one lost credits that they needed for sequence classes. The UC is not going to penalize undergrads; they didn't do it last time, and if they do it this time, that's their choice to do it, not ours.
Third, for students who are concerned about not having as much GSI attention in the final weeks of the semester leading up to finals, bear in mind — we're the ones who teach you, we're also the ones who grade you, and we are very much aware of the situation.
DC: Final question: what would your message be to the Berkeley community as a whole?
RH: Thank you so much for your support. It's really been amazing seeing people come together over this and to support us … I think this might be a long haul (strike), and if it is, we will appreciate your continued support. Basically, we're us, we're you, all these pronouns get jumbled together in this kind of collective situation where the Berkeley community is us, and we really hope that by doing this we can make positive change for everyone here.
AM: Well said. Everyone in the community is welcome to join the party anytime they want.
RH: Picket lines should be thrilling, and it's an open invitation to anyone who wants to join us.
Editor's note: This interview has been edited for length and clarity.