Calmerry: Online Therapy Review
Mental health issues are more common than ever. According to statistics, about one-fourth of U.S. adults have anxiety, and more and more people report having symptoms of depression every year. It's important for people with mental health disorders to have timely access to professional help. Unfortunately, not everyone who needs help manages to receive it.
Getting therapy can be a challenge for those who are afraid of facing their vulnerabilities and feel uncomfortable when discussing personal matters with others. So, it's important to keep in mind that licensed therapists put a lot of effort into creating a safe space for clients.
Besides, the topic of mental health is surrounded by stigma and many misconceptions so some people don't want to admit they need help, in the first place. Problems with being vulnerable and stigma, however, are not the only factors that may prevent people from getting the so-needed help.
Quite often, people don't start therapy simply because they don't have enough time for it. When having a tight work schedule, commuting to a therapist's office can be quite a challenge. As a result, people who prioritize their work may ignore their mental health needs.
The good news is that traditional in-person therapy isn't the only solution. Online therapy platforms like Calmerry offer an opportunity to talk to licensed therapists from virtually anywhere, with no need to leave the comfort of your home.
In this review, we will take a look at the key features Calmerry has to offer and provide you with all the necessary information so that you can understand whether or not you should use this online therapy platform.
Overview
Calmerry was created back in 2020 as a response to a growing demand for accessible online therapy during the COVID-19 pandemic. Since then, this platform has been rapidly growing and developing, becoming one of the most popular platforms in the online therapy niche.
Calmerry has everything one may look for when choosing online therapy: licensed mental health professionals, competitive prices, mental health toolbox, and reliable 24/7 client support. 
To get started, you should create a profile on the website and answer a few questions regarding your problem. After this, you'll be matched with a therapist who has the necessary credentials and experience within an hour.
Along with online therapy in the form of text messaging or live video calls, you also get access to an extensive self-help library and free self-care tools, such as a unique mood-tracking chatbot. Such tools offer a more convenient and fun solution than traditional journaling.
The vast majority of Calmerry users characterize their online therapy experience as either great or very good. Perhaps, one of the reasons why so many clients are happy with their online therapy experience is that Calmerry offers free therapist switching. Even if you're not satisfied with your first match for any reason, Calmerry will find a perfect therapist for you.
Calmerry also offers different modalities of online therapy, such as cognitive behavioral therapy, psychodynamic, motivational interviewing, interpersonal, and dialectical behavioral therapy. Here, you can opt for self-esteem therapy or online OCD help. Calmerry also offers emotional abuse therapy, grief counseling, and many other online therapy services.
Online therapy is all about flexibility and accessibility, so Calmerry clients can access their virtual therapy rooms from any device. There is a convenient user-friendly website, and Calmerry also has iOS and Android apps.
Therapy made flexible
The reason why Calmerry is so popular is that it's a flexible solution for online therapy that offers comprehensive treatment combined with self-care tools and useful informative resources. And, of course, this company probably wouldn't be so popular without its team of licensed mental health experts from every state.
All subscription plans feature unlimited messaging, and you can send messages to your therapist whenever you want. This is a great online therapy solution for people with social anxiety who may feel uncomfortable when talking to a therapist face-to-face.
At the same time, clients who would like to receive treatment in a traditional setting can opt for live video calls. Therapists usually reply to text messages once or twice a day, and you can schedule online therapy video calls in advance, according to your work schedule.
Getting started
First, you can visit the company's website. It's pretty simple and packed with lots of useful information. On the website, you can learn more about therapists' credentials and check out real clients' reviews of online therapy at this company.
The FAQ section of the website is pretty lengthy, and it contains answers to virtually any questions you may have when starting online therapy. In this section, you can learn about the company's policies, payment processes, etc. We also suggest that you visit Calmerry's blog where you can find many articles on various mental health topics.
Calmerry matches clients with therapists based on their answers to a quick questionnaire. When creating a personal online therapy profile, you should provide some information about your symptoms. After this, you will see a quick summary of your mental state, along with the possible goals that you can achieve with online therapy.
Matching and chat rooms
Once you've completed a quick survey and got matched with a therapist from your state, you need to choose your online therapy plan. There are several options for different budgets. Generally, the price depends on the video calls featured in a package.
The matching process takes up to an hour, and as soon as you're matched, you can start using your online therapy room. This is a virtual chat room where you can see your therapist's specialization and your treatment plan. 
The chat room is easy to use so you can quickly figure out how to use all the functions. Both mobile apps and the web interface support the whole online therapy functionality so you can benefit from a seamless multi-platform experience.
Therapists
Calmerry only hires licensed mental health workers with 2,500+ hours of experience so you can be sure that you'll be working with real professionals. There are licensed marriage and family therapists, licensed mental health counselors, licensed social workers, and many other professionals with different backgrounds.
Thanks to the big pool of therapists, Calmerry helps clients overcome a variety of mental health issues, including depression, trauma, grief, anxiety, stress-related issues, self-esteem problems, and many more.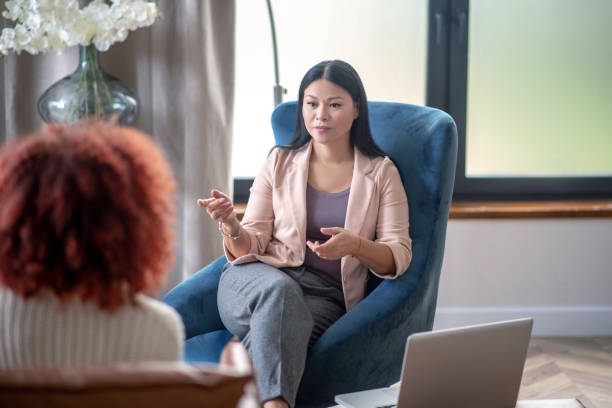 Prices
Calmerry not only offers quality mental health care but also allows its clients to receive the necessary help without breaking the bank. The basic online therapy plan costs $50 per week with the discount, features text messaging only, and this option might be appreciated by those who have never tried online therapy before and are not sure whether or not they need video sessions.
A subscription package that features one live video call per month costs $62, and a package with 4 video calls will cost you $74. 
Quite often, people who are new to online therapy wonder whether or not their insurance covers it. Well, some insurance companies may provide partial coverage of online therapy, so you can get a receipt from Calmerry and submit it to your insurance provider to learn more about their policy.
Summary
Online therapy has proven to be as effective as traditional in-person sessions. Mental health is a hot topic among Americans, and modern technology allows everyone to receive the necessary help from virtually anywhere.
Thanks to Calmerry, you don't need to commute to a therapist's office. All you need is a web browser or a mobile app. Calmerry has a big team of licensed therapists, it allows for free therapist switching, and it also gives its users access to a great self-care library and free mental health tools.
You can get matched with a therapist from your state based on your symptoms within an hour, send unlimited messages, and schedule video online therapy sessions. You can also use a unique mood-tracking chatbot to monitor how different events and activities affect your emotional well-being.
In this review, we considered some of the key features of Calmerry. If you have any questions or want to learn more about this online therapy platform, visit the company's website, and don't hesitate to contact their support service, which is available 24/7.