I
went trick-or-treating until I reached the socially unacceptable age of 15. I then proceeded to find a loophole to avoid aging out of the tradition by babysitting my neighbors and cousins and taking them trick-or-treating. To me, Halloween has never been about sexy costumes or getting blackout drunk (a radical idea for a college student); instead, it has been about transforming into an alter ego or a role model and then, most importantly, going into a sugar coma. Why would anyone not love this Americanized practice of Halloween?
I have always had an affinity for this holiday. As a kid, I was pretty reserved, preferring to be in the audience; I never liked to get up on stage or dress in flashy clothes. Halloween, however, gave me an excuse to step out of my shell and transform into whoever I wanted to be, even for just a night. To me, there was nothing better than impersonating the people that I had seen from my seat in the audience of a movie theater or performance venue. Each year I chose a different movie character for Halloween, from Spiderman to Jessie the Yodeling Cowgirl. As I got older, I started dressing up as Annie Hall, Carrie, Margot Tenenbaum and Juno.
I went from dreaming of working behind a camera to aspiring toward a career in anesthesiology. But then, more practically, I decided that I would be a psychologist, then a journalist, and then a chef. It is certainly safe to say that I was all over the place. This year, I thought, What better way to celebrate Halloween than paying homage to my past costumes and favorite films, than by making a recipe for the different roles I have played off screen?
I love the gore of Halloween. The best was when psychological thrillers met insane special effects. In high school, I once dressed up as the twins from the Shining. I was fascinated by the film, story, actors and special effects (the flood of blood). In my freshman year of college, Halloween was a toned down affair as the coronavirus has killed the spirit of most festivities. Instead of going to parties or concerts, I opted for a fun dinner with friends, with the only rule being that we had to dress up. I took the 51B down to Spirit Halloween and bought a load of fake blood, and stood in the communal showers of Clark Kerr Building 7, dousing my nice pink dress in it. Placing a dainty tiara on my head, I transformed into Carrie. To stay in character, I think it is best we start our evening of eating with a refreshing and bloody beverage.
Bloody Mary
Ingredients
1 lemon wedge
1 lime wedge
2 ounces of vodka (optional for those under 21)
4 ounces of tomato juice
1 teaspoon of horseradish
3 dashes of Worcestershire sauce
Optional: dash of hot sauce, preferably tabasco
Pinch of black pepper
Pinch of salt
To garnish:
2-3 green olives
1 trimmed stalk of celery
Lime wedge
Springs of Dill
Begin making your cocktail by squeezing then muddling the lemon and lime wedge at the bottom of a shaker. Add the vodka, tomato juice, horseradish, worcestershire sauce, hot sauce (if using), pepper and salt to the shaker as well as a few cubes of ice. Shake until the shaker frosts over and feels cold to the touch. Taste for seasoning and strain, pouring over a tall glass of ice. To garnish, skewer the olives, resting them along the rim. Rub the lime along the rim of the glass and place it in the drink along with the celery and dill. Enjoy your vegetable full beverage to prepare your system for the candy filled Halloween festivities.
N
ow that we've gotten past my rather bloody costumes, we reach my favorite character to play — Juno MacGuff. It was my sophomore year of high school, and just a few months earlier, my older sister had bought a janky old car from our mechanic. I spent the morning putting together my costume, stuffing my shirt full of pillows and buying a massive jug of SunnyD. We were about half way to school when the car started to make a chugging noise. The car slammed to a halt, shut down and began to smoke. It was a goner. I stood on the side of the road dressed as my favorite quirky, pregnant teenager waiting for a tow truck and a ride to school.
Given this Halloween fail, I have paid homage to Juno MacGuff nearly every year since. If there is any flavor I can associate with the film, it would be orange. For those of you who have not had the pleasure of seeing the film, Juno chugs a massive jug of SunnyD orange juice in order to retake and confirm her pregnancy test. Paulie Bleeker, a dorky cross-country runner and Juno's love interest, is also obsessed with orange TicTacs. (One of the most heartwarming scenes at the end of the film is when Juno stuffs his mailbox full of them.) I think Juno deserves a sophisticated but sweet recipe echoing her mature but heartwarming on-screen presence.
Juno's Orange Olive Oil Loaf Cake
Ingredients
For the cake:
¾ cup cup extra-virgin olive
¾ cup sugar
2 eggs
1 teaspoon vanilla extract
1 tablespoon orange zest
2 tablespoons orange juice
1 ¾ cups all-purpose flour
1 teaspoon baking powder
¼ teaspoon baking soda
½ teaspoon salt
For the glaze:
¾ cup powdered sugar
2 tablespoons orange juice, more as needed
1 teaspoon vanilla extract
1 teaspoon orange zest
1 teaspoon melted butter
Begin preheating your oven to 350 degrees and buttering your loaf pan. Make sure to get in all the corners to allow for easy removal after baking.
In a medium bowl, whisk together the olive oil, sugar and eggs until smooth. Then add the vanilla extract, orange zest and orange juice. This is the wet mixture.
In a separate bowl combine the dry ingredients: flour, baking powder, baking soda and salt. Add one-third of your dry mixture to the wet ingredients and begin to mix. Once the streaks of flour disappear, add the next third and repeat until all ingredients are combined. Make sure just to mix until the flour disappears and no more to avoid overmixing.
Pour the batter into the prepared loaf pan. Bake for an hour turning about halfway through. Once the loaf is baked, allow it to cool slightly in the tin before removing.
While the loaf is cooling, make your glaze. Combine the sugar, zest and juice and whisk until smooth. Don't add all the juice at once in order to control for your preferred thickness. The more juice, the looser the glaze will be. Then add your melted butter to the glaze and mix until well combined.
Once the loaf has been removed from the pan and cooled, carefully pour/spread the glaze over the top and enjoy! I recommend enjoying your fancy orange tea cake with a bright blue, extra large slushy, just as Juno would.
F
or those feeling a little less invested in baking a cake or making an elaborate vegetable filled cocktail, this last recipe may be better up your alley. Wes Anderson has always been one of my favorite directors. Fascinated by the aesthetics, framing, cinematography, stop motion, costumes and colors used in his films, I had always wanted to dress up as one of his characters. Last Halloween, I was feeling particularly angsty and thought: Who better to dress up as than Margot Tenenbaum, an adopted, complicated, stubborn, outsider to her big family? Margot is an icon, with her overwhelming amount of eyeliner, fur coat and romance with her brother.
Out at an ice cream parlor with her father discussing whether she is to leave, Margot — like a child — orders a butterscotch sundae. The scene perfectly sums up Margot and her relationship with her family. This recipe makes just enough for one person if you're feeling a bit stubborn and reclusive this Halloween.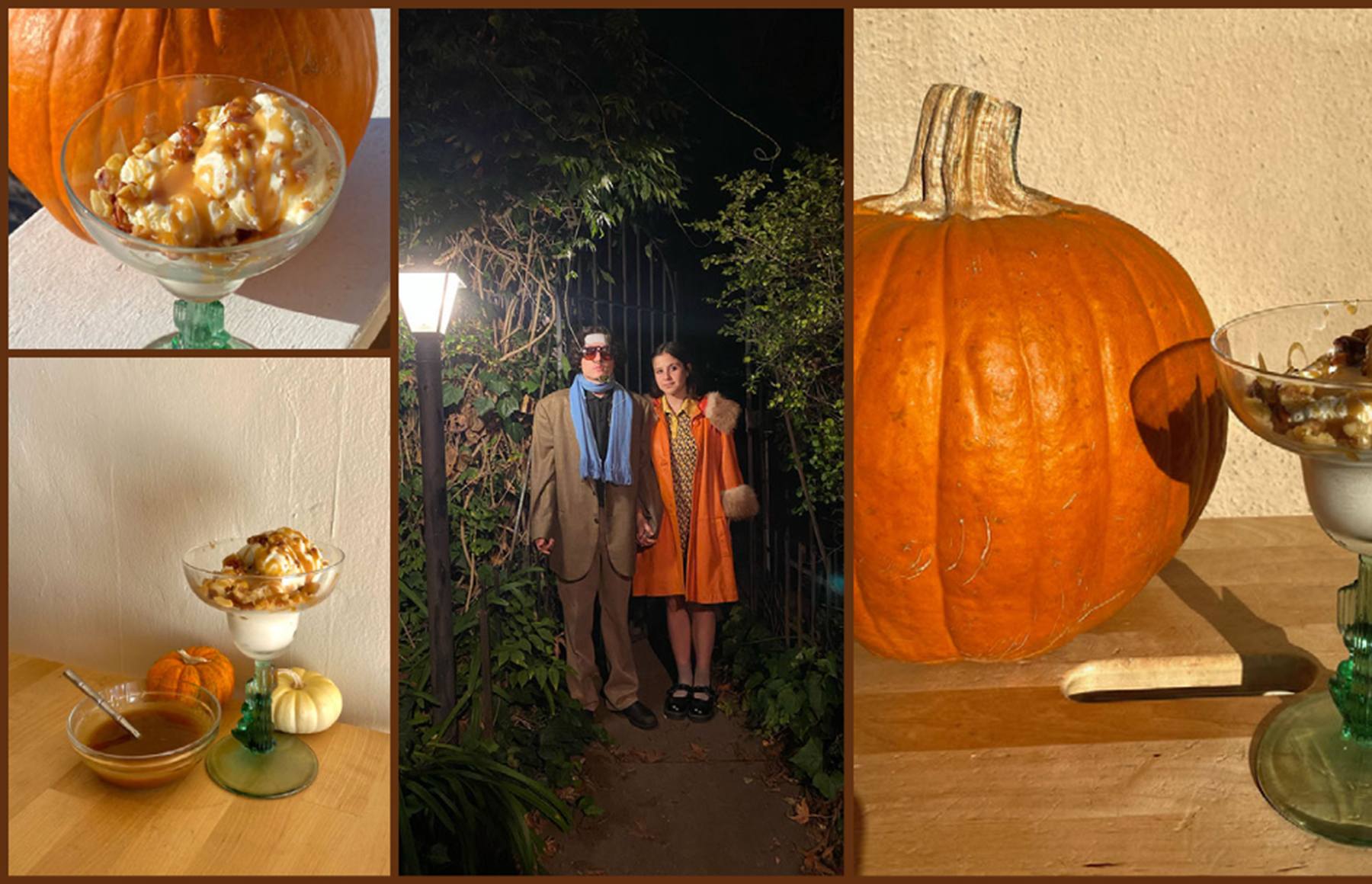 Margot's Butterscotch Sundae
Ingredients
2 hefty scoops of vanilla ice cream
1 handful of roasted, salted nuts of choice (peanuts, pecans or walnuts)
2 maraschino cherries
Flaky salt (maldon salt) to taste
Butterscotch sauce:
2 tablespoons of unsalted butter
¼ cup packed brown sugar
¼ c heavy cream
Splash vanilla extract
Pinch of salt
Begin by melting the butter in a small saucepan over low heat. Be careful not to overheat the butter or it will begin to brown. If this happens, not to worry, it will add a nutty flavor to your butterscotch sauce.
Add your brown sugar to the saucepan and continue to stir until your sugar melts, about three minutes. Once the sugar has melted, add the heavy cream to the pan. The mixture will bubble and sputter, but continue to stir and cook for another two minutes.
Remove the sauce from the heat and stir in the vanilla and salt. Allow the sauce to cool.
While the sauce is cooling, roughly chop your peanuts and place your ice cream into your serving bowl of choice.
To assemble Margot's sundae, drizzle your homemade butterscotch sauce over the ice cream, sprinkle peanuts over the top, and garnish with your maraschino cherries.
Optional: Apply hefty amounts of eyeliner, gloves, fur coat and a cigarette to fully get into character before indulging.
Happy Halloween to all you movie and foodie freaks and geeks.