More than three weeks after a vigil held by the local Iranian community for Mahsa Amini, Iranian students persist in asking for direct support from UC Berkeley as protests continue to escalate around the world.
During the Sept. 23 demonstration, community members set up tables lined with candles, flowers and notes in remembrance of Amini and other Iranian "brothers and sisters." Middle East Matters, the student organization that organized the gathering, had also distributed informational flyers around campus.
Less than a day later, both the flyers and remnants of the vigil were allegedly removed by campus.
In a public statement released by campus's Iranian Students' Cultural Organization, or ISCO, the Iranian student community expressed the "hurt" they felt at the removal.
According to campus spokesperson Janet Gilmore, however, the removal was "standard practice" and part of the assigned duties of the campus facilities staff who were readying campus for the weekend's homecoming events.
"(The) vigil was an important and powerful way for individuals to convey their feelings and concerns regarding their loved ones in Iran or regarding human rights concerns more broadly," Gilmore said in an email. "We regret that all participants were not aware that any items left behind would be removed and discarded."
The public statement issued by ISCO also requested that campus address the community in a campuswide email, expressing their support for Iranian students.
ISCO student leaders Yaas Farzanefar and Hasti Mofidi expressed disappointment at the sparse campus action toward addressing the issue before and after the vigil. They especially referred to the escalation of violence in Iran, which they said has taken a toll on students.
"When stuff like this happens, as a university student, I can't study or do my work," Farzanefar said. "A lot of us have family on the ground that we can't talk to. So we are really impacted, and we wanted to make that seen and we wanted the university to hear that and understand."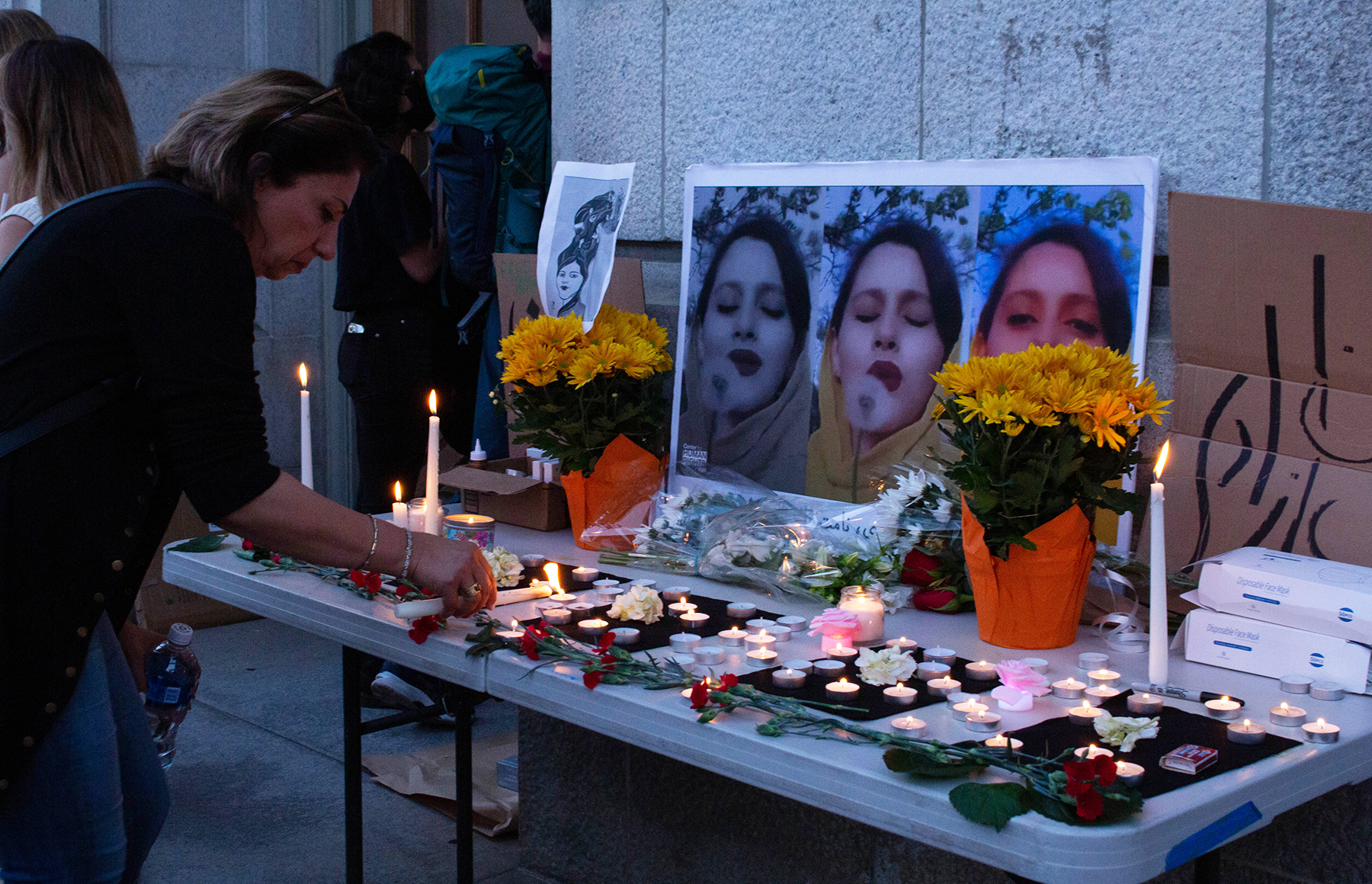 In response to calls for a campuswide statement, Gilmore referred to a campus press release issued Sept. 23 by vice chancellor for the division of equity and inclusion Dania Matos and vice chancellor for student affairs Stephen Sutton. It contains references to the vigil and provides information on available mental wellness resources.
Campus leadership has been communicating directly with affected students and student groups, according to Gilmore. She added that Matos, campus students affairs and equity and inclusion representatives and students in the Iranian community — including Mofidi and Farzanefar — also held a meeting Sept. 28 to discuss the issue and campus involvement.
Mofidi, however, said there was no "concrete conclusion" from the discussion. She, alongside Farzanefar, alleged that emails containing information on the vigil and other resources had not been sent to any of the Iranian student representatives prior to the meeting.
"It shouldn't be our job to sit down and tell them we are impacted in this way, and what they should do for us, given all the emotional turmoil we are going through," Farzanefar said. "That on its own shouldn't be acceptable."
According to Gilmore, it is "campus practice" to engage with affected students and communities while tailoring their response accordingly, citing the Critical Incident Communication Protocol. The protocol provides a checklist of criteria that determines whether a campus response is warranted and how it is framed and platformed.
Vice provost of undergraduate education Oliver O'Reilly "urged" flexibility for students experiencing stress and trauma in relation to international events including the unrest and violence in Iran, according to Gilmore.
ASUC Senator Yasamin Hatefi, who met with campus administration alongside Iranian student representatives, echoed the feelings of frustration with campus's "lackluster support."
"Regarding this issue, I believe it was highly disrespectful of UC Berkeley to remove a vigil on public property that was not blocking anyone's path," Hatefi said in an email. "Additionally, I am highly disappointed in the administration's unwillingness to send a campus-wide email due to 'protocols' and other types of bureaucracies the administration imposes on us." 
Like Hatefi, Farzanefar and Mofidi noted that campus should send out a campuswide message rather than targeted emails delivered to specific groups. Mofidi noted that spreading awareness is what keeps the momentum going.
In a statement, ISCO and other Iranian student organizations called for a UC systemwide response to Iranian students, which included among other demands the "recognition for recent events in Iran" as well as a public issuance of support.
Hatefi released a similar statement Oct. 11 signed by multiple ASUC senators addressing the vigil removal and lack of campuswide email.
"It is really important that they send a campuswide statement because the movement that is happening in Iran right now requires raising awareness from the diaspora community and from the international community," Farzanefar said. "UC Berkeley, as one of the most political campuses in the world, could really amplify and help Iranian students right now by sending the campuswide statement."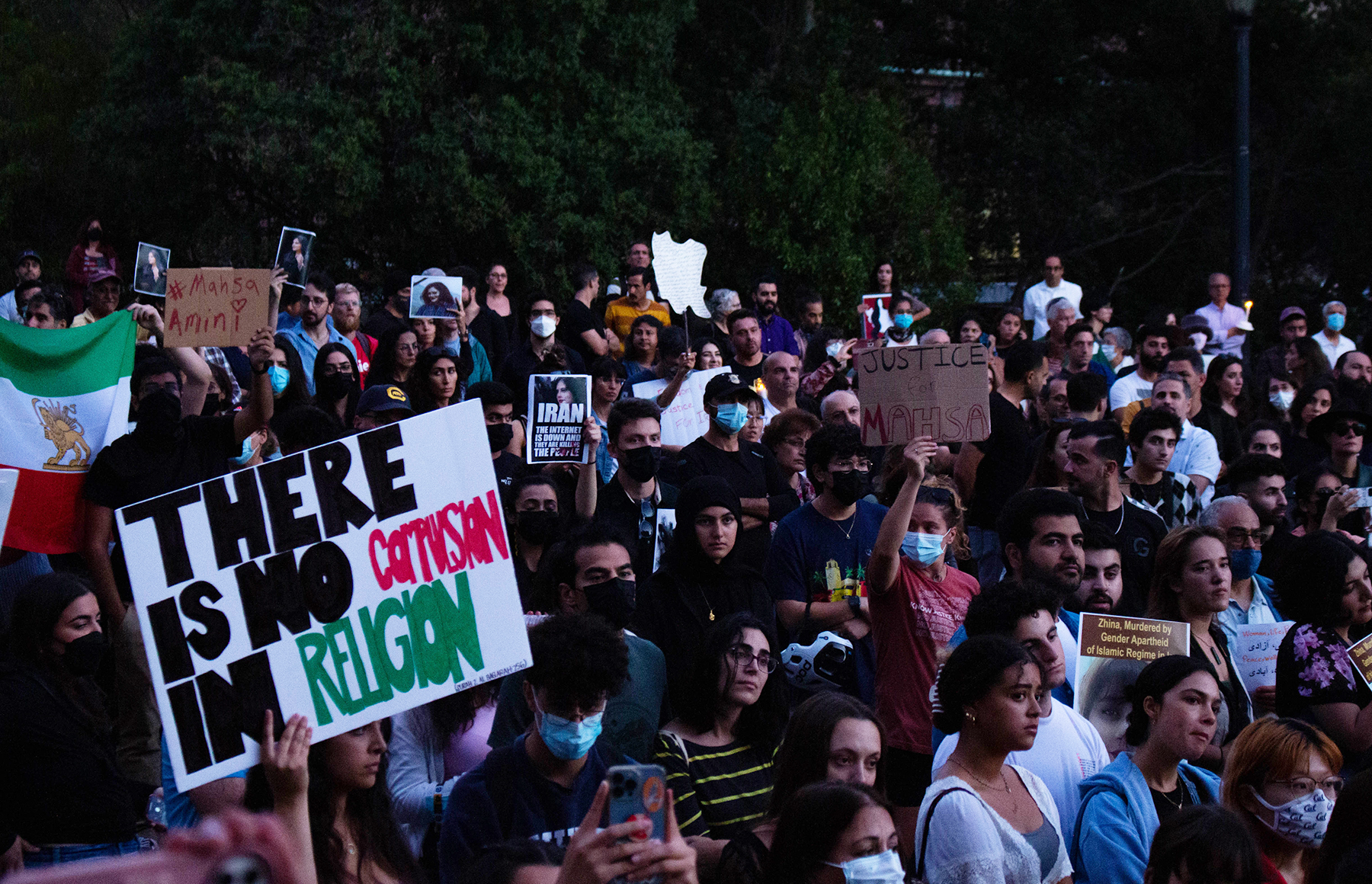 Gilmore said campus has "amplified" the message of outreach to Iranian and other communities on social media. A week after the vigil, campus posted a statement with resources addressed to Iranian students on their Twitter. On Oct. 4, campus posted a similar message in an official Instagram post.
Hatefi said in an email these social media posts are not comparable to a campuswide email, which has a "very different" impact. She added that students may not have social media accounts and it is unlikely that the issue and the "grievances" of Iranian students are known across the student body.
Following the widespread action taken by the local Iranian community, Berkeley City Council also passed a resolution Oct. 11 in support of the "women's fight for freedom in Iran." According to a City Council press release, a second resolution has been introduced to the council as a call to action for California state senators and Congress members.
As demonstrations continue this week, Farzanefar reiterated that formal support is important to spread awareness, especially as the situation escalates in Iran.
"It's about the Iranian students on this campus, it's about standing for human rights, " Farzanafar said. "This is a global movement, and if the university wants to not speak on that … they are going to be standing on the wrong side of history."