Joining forces in a reflective portrait series, The Daily Californian and Daily Bruin photographers asked 20 college students three questions to help them explore what the last 12 months meant to them. Here's what they had to say.
–Lisi Ludwig, Photo editor/The Daily Californian & Kanishka Mehra, Photo editor/Daily Bruin
---
What advice would you give to yourself a year ago?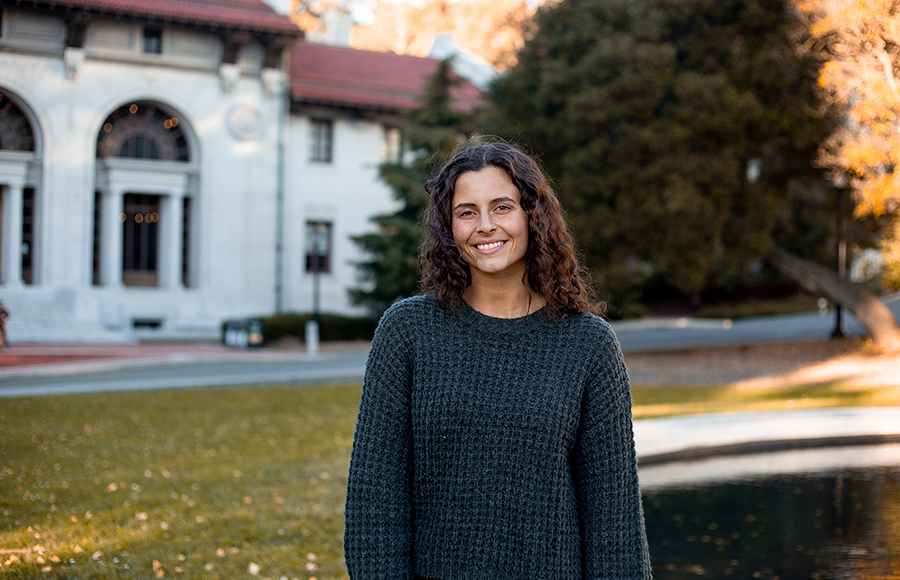 Sunny Shen/The Daily Californian senior staff
BERKELEY — "Spend more time with your friends because you're going to miss them a lot, go to the libraries more and not stress about grades as much," said Alleanna Clark, a UC Berkeley student. 
Clark, a fourth-year data science student, acknowledged that placing too much of an emphasis on grades is common for many students. Ultimately, Clark said she realized that some things matter more than career and life decisions.
"It's more about your relationships that you make with people, the things you learn how to do and what you're doing those things for," Clark said.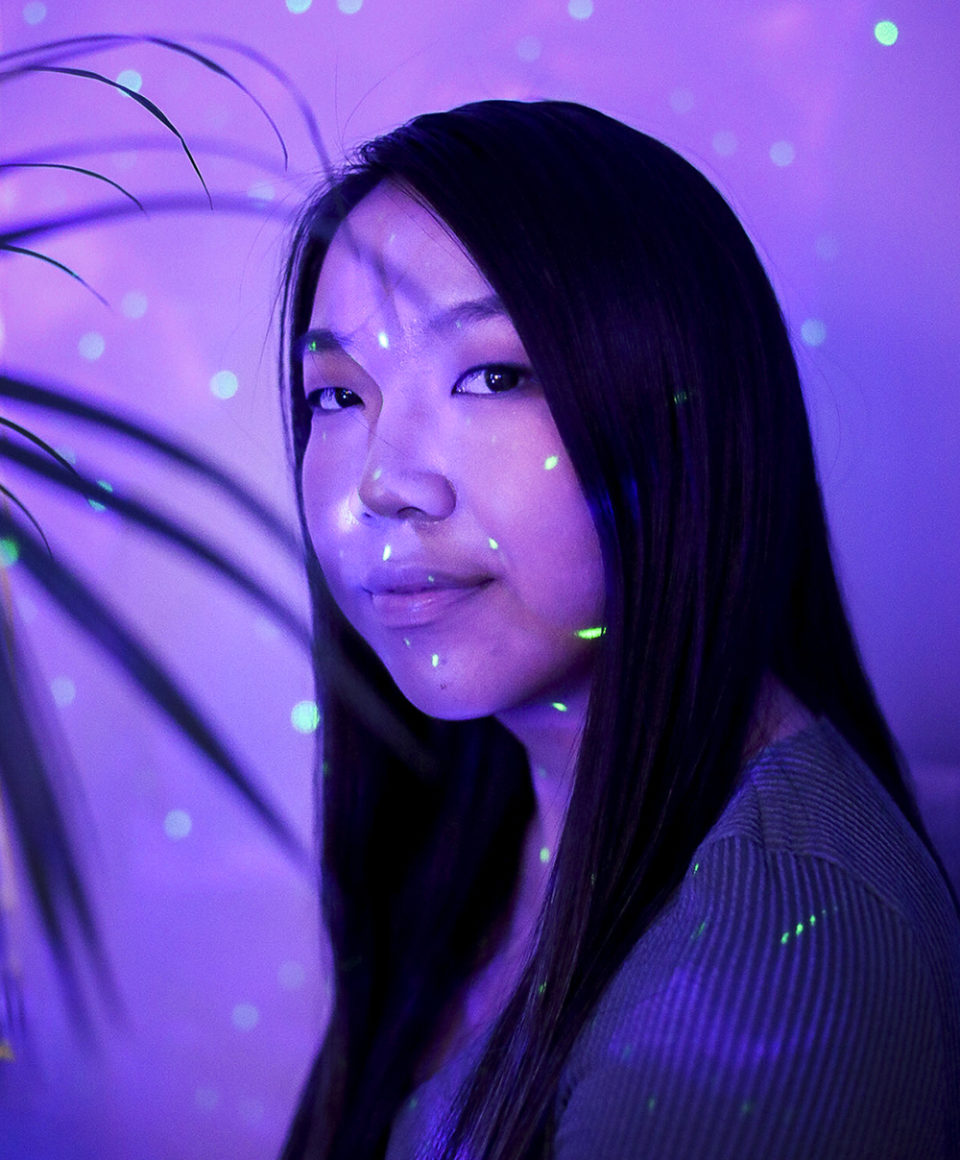 Ella Barnes/Daily Bruin
LOS ANGELES — As a first-year UCLA student studying business economics and statistics, Anita Wong found powerful gratitude in spending time with the ones she loves in her life. 
"I would tell myself to not dwell and be hung up on problems that seem large at the time but, in reality, are so minuscule and incomparable to the real problems in the world," Wong said. 
After an unusual transition to college, Wong emphasized the importance of staying in the moment and holding on to the things one finds most important in one's life, even when life may seem inescapable.
Marc-Anthony Rosas/Daily Bruin

GLENDORA, Calif. (photographed remotely) — "Remember to be kind to yourself," Liz Hartwell said. 
Hartwell, a fourth-year political science student at UCLA and 2020 intern for the Los Angeles County Democratic Party, looked back at the importance of balancing self-care and discipline as a transfer student. Although holding oneself to a higher standard is good, Hartwell expressed that practicing self-compassion and being considerate of oneself is also important, especially for transfer students who faced many roadblocks to get to UCLA.
"While we should continue to unabashedly and boldly follow our dreams, I think there comes a time when we need to take a moment to really reflect on how far we've come and be proud of the accomplishments that we've done so far without having to force ourselves to run on fumes," Hartwell said.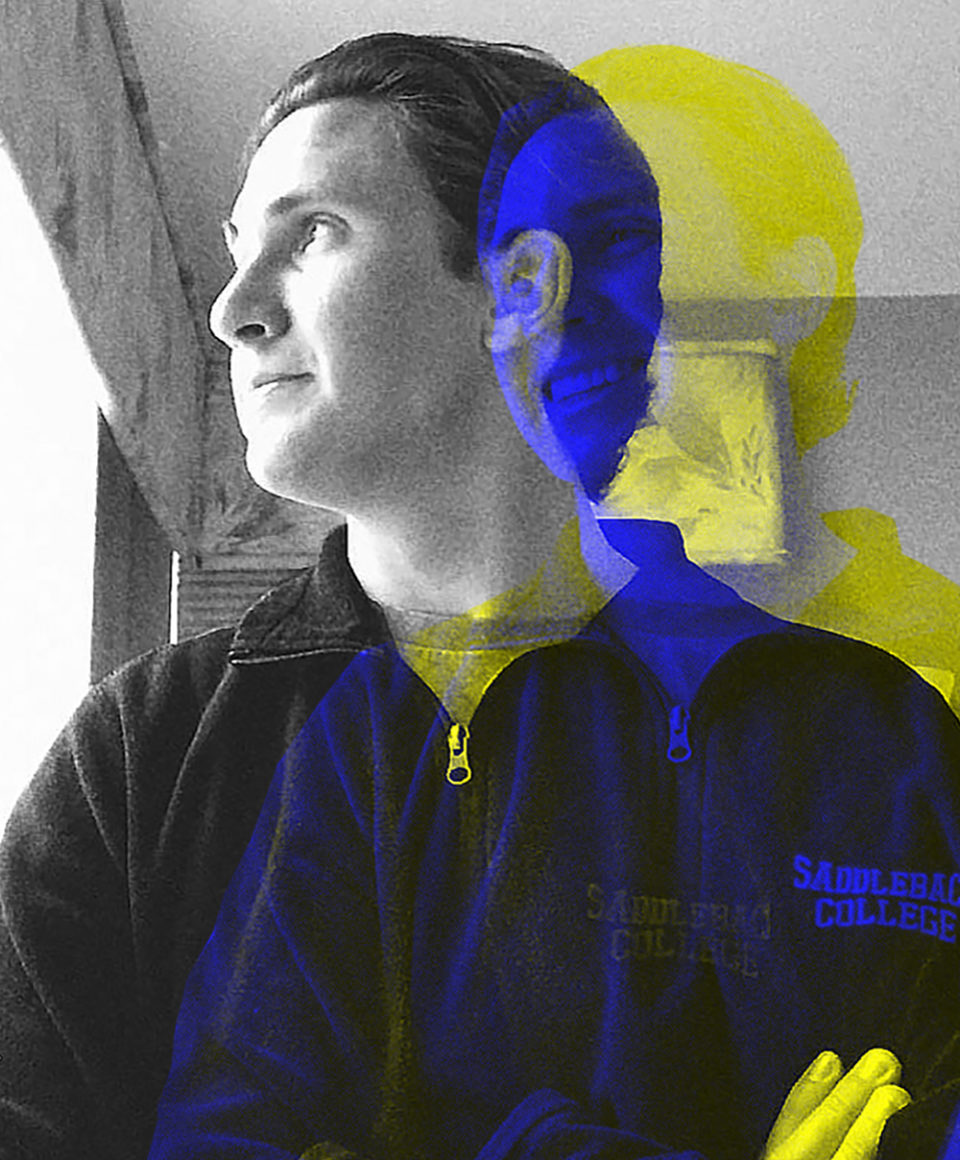 Photo illustration by Ariana Fadel/Daily Bruin & Kanishka Mehra/Daily Bruin Photo editor
DANA POINT, Calif. (photographed remotely) — Andre Molga, a third-year business student at UC Berkeley, reflected on how, as a transfer student, he had spent his time focused mainly on what would come after community college.
"I was always like … I'll pass on that opportunity to go out with friends, … (and) I'll make sure I study for this final exam … (and) get that A and the grades that will allow me to transfer to Berkeley," Molga said. 
Now, with his first year at UC Berkeley being virtual, Molga said looking back, he wishes he had taken advantage of the opportunities he had earlier instead of taking them for granted.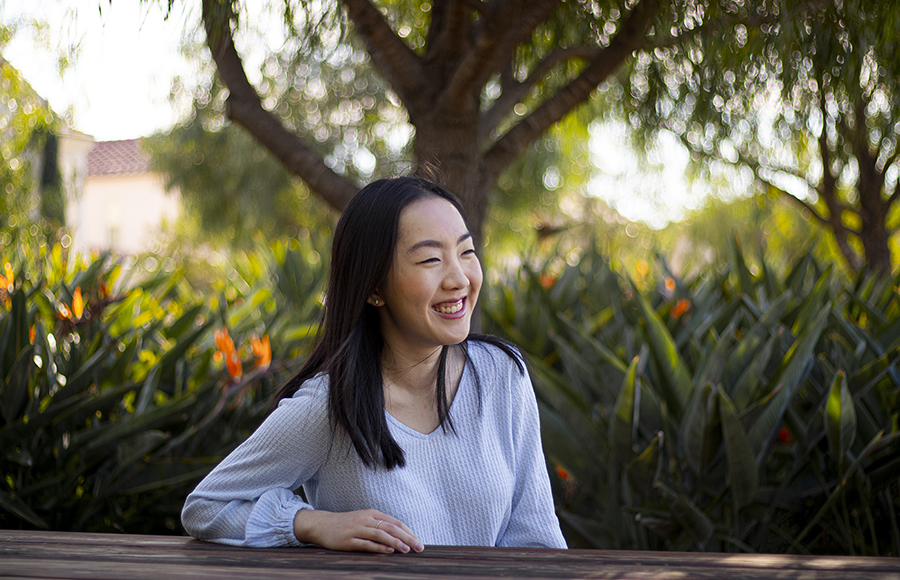 Esther Li/Daily Bruin staff
IRVINE — Fourth-year UCLA chemistry student Carolyn Hu has always kept a busy schedule, playing integral parts in a plethora of student organizations. 
"I always envisioned my senior year as a celebration full of bittersweet lasts," she said. "Last LA Hacks, last day in the lab, last Stroke Team shift, last day at Bruin Shelter, even my last day in a lecture hall." 
With her final year at UCLA now looking drastically different, Hu wished to remind her younger self to get out, explore and make more memories now. 
"Tomorrow is a mystery, but today is a gift," Hu said, quoting the wise words of Master Oogway from "Kung Fu Panda."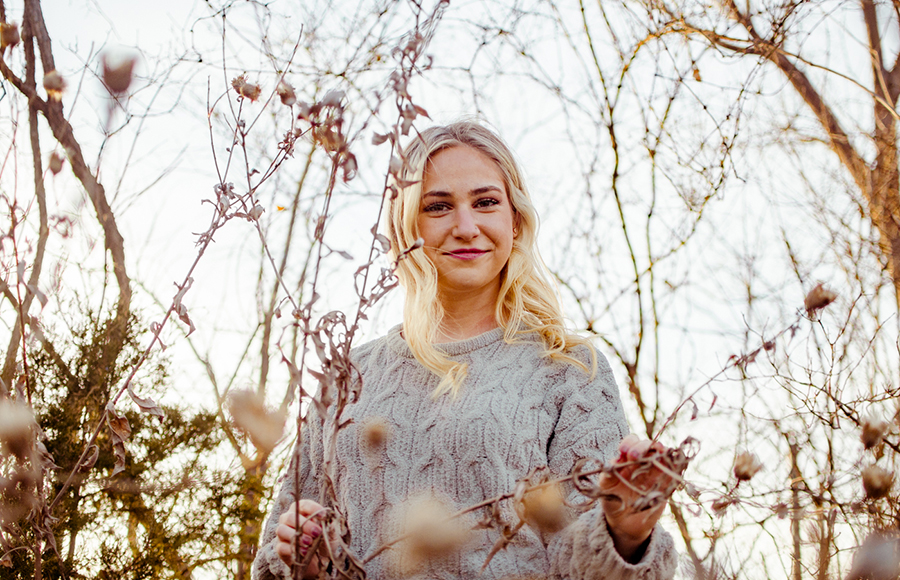 Kanishka Mehra/Daily Bruin Photo editor
OVERLAND PARK, Kan. — Third-year UCLA communication and psychology student Katrina Doherty said she found it difficult to reflect positively on 2020 because the COVID-19 pandemic has not yet come to an end. Doherty said her advice to her past self would be to approach the first weeks of remote schooling with more structure and make the most out of the first few months of the year.
"I was just so shocked that I dropped all of my routines," Doherty said. "I would just want to take it better and with more grace."
---
What's your biggest takeaway from this year?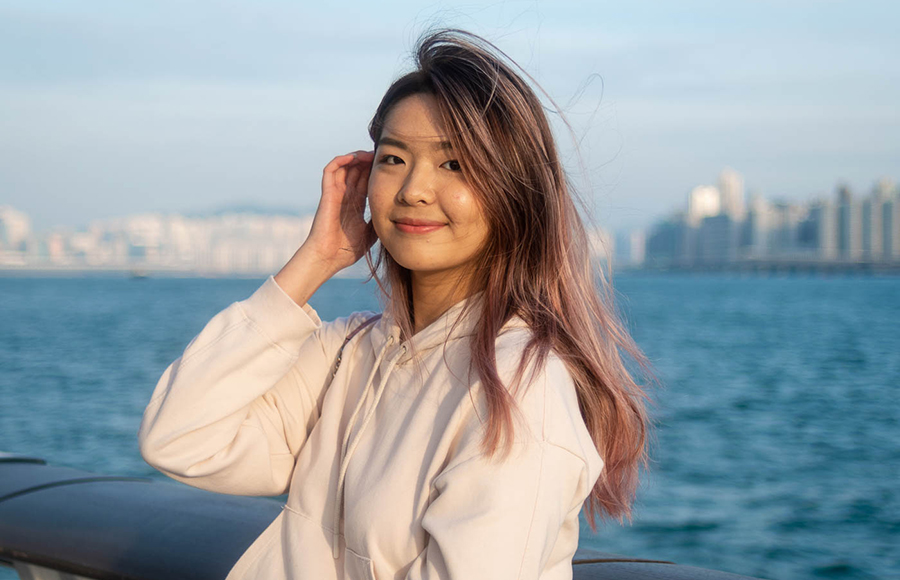 Lauren Man/Daily Bruin assistant Photo editor
HONG KONG — "Being soft and open to other people's help isn't a weakness at all," Linda Wu said. 
Wu, a third-year business economics student at UCLA, said this summer was the most painful period of her life. She said she experienced loss for the first time when her ex-boyfriend died in a car accident, but, thankfully, she found solace in her loved ones.
"Every single day, I wake up, and I'm just surprised by how much all my friends and family actually care about me," Wu said. "It's something that really touched me, and I will always remember going forward."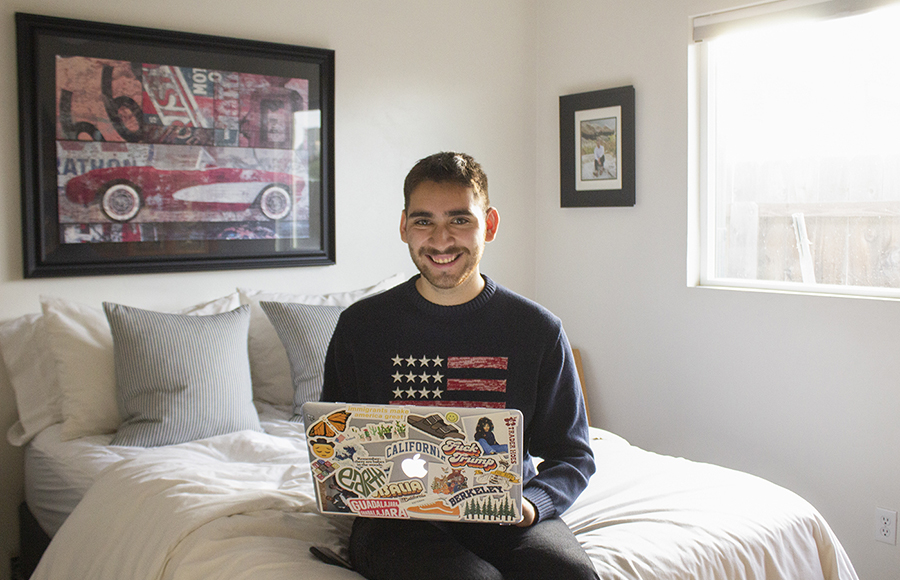 Brianna Luna/The Daily Californian senior staff
VISALIA, Calif. — As a transfer, sociology student Esteban Benitez knew that he would be in for quite a challenge heading into his third year. Despite facing harsh feelings of uncertainty and hopelessness, Benitez realized that dwelling too aggressively on negativity would greatly affect his health and hinder the potential experiences still contained within the unique year.
"I want to remember that I am such a badass for getting through a literal pandemic with A's and B's on my transcript and that it's OK to prioritize my health and see myself as a human who requires maintenance rather than just a student who sacrifices their health over grades," Benitez said.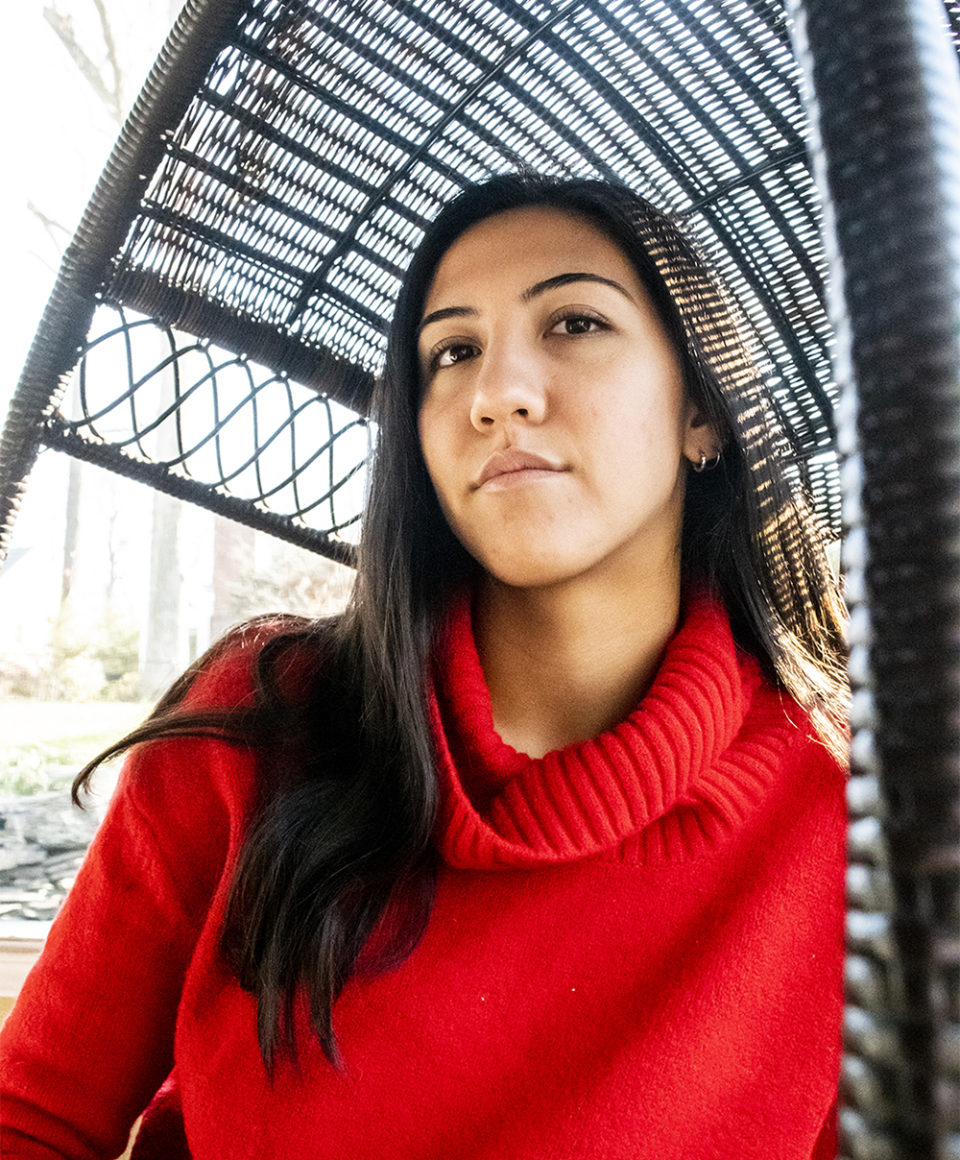 Alex Driscoll/Daily Bruin staff
FALLS CHURCH, Va. — "It doesn't have to be profound for you to gain something from it," Chloe Beverina said.
Beverina, a fourth-year economics student at UCLA, reevaluated all that she's grateful for in her life and the values she wants to uphold moving forward into 2021 after spending much of the last year at her home in Virginia.
"I want to take away how grateful and fortunate I am to live the life that I do and to have the opportunities that I do because I've been able to see struggle, contribute to people who are struggling or experienced struggle," Beverina said.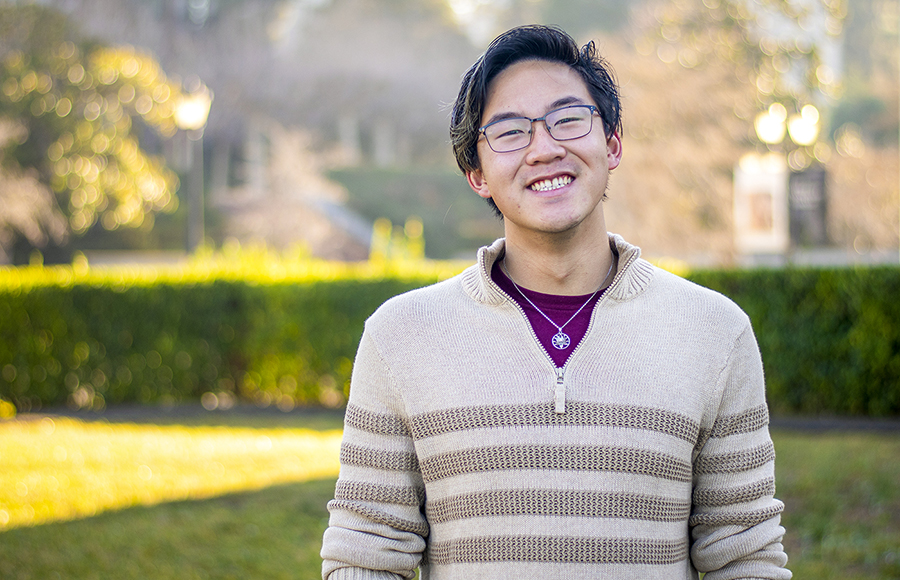 Jeremy Chen/Daily Bruin
BERKELEY — "My biggest takeaway is that the people who care to keep in touch will keep in touch," David Ren, a fourth-year student at UC Berkeley, said.
Studying English and creative writing, Ren looked back on 2020 as a year that shined a light on those who are willing to make the effort to connect. Although he used to worry about being a burden to friends and family, Ren said he realized sending messages here and there meant a lot to his loved ones who might be struggling with issues of their own.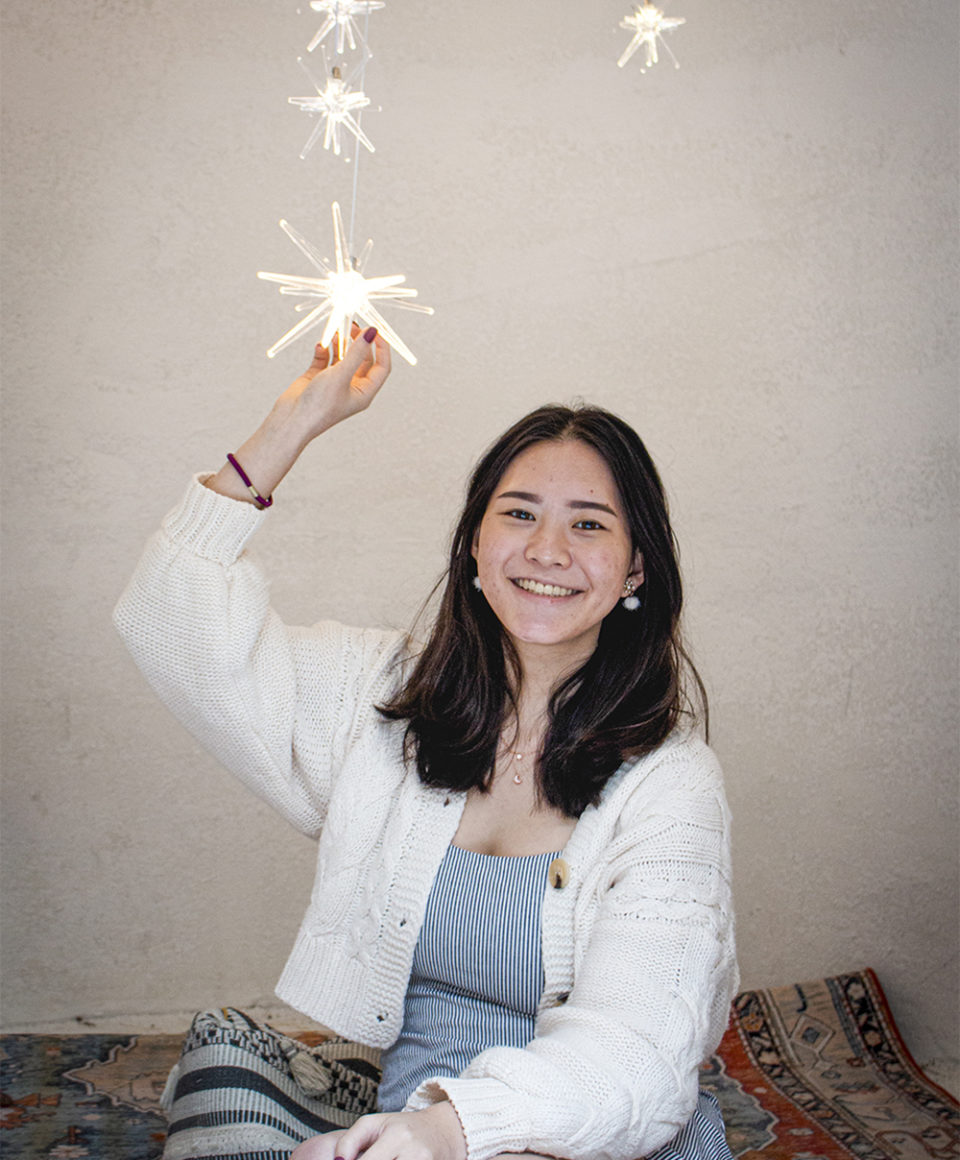 Christine Kao/Daily Bruin staff
TAIPEI, Taiwan — While the pandemic has brought unexpected challenges and poses an uncertain future, for Jill Chen, a business economics student from UCLA, 2020 has been a year with no regrets. 
Currently a second-year student, Jill said her freshman year was cut short as a result of the COVID-19 pandemic, yet she was able to make the most out of the short period of time she had on campus — pushing herself out of her comfort zone and reminding herself to live in the moment.  
"All of the things I've done were so that I can live without regrets," Chen said. "This year's experience has revealed the importance of this mindset even more profoundly."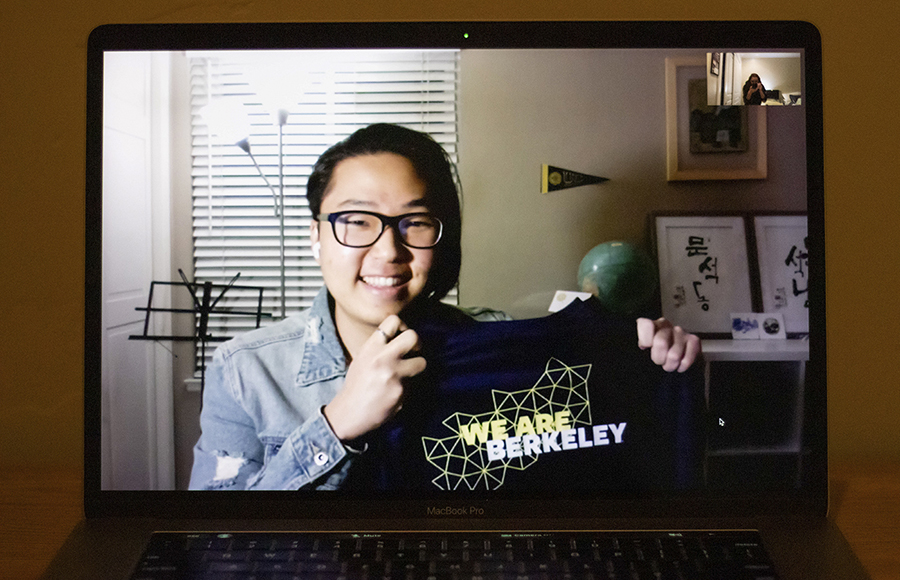 Celine Bellegarda/The Daily Californian senior staff
CERRITOS, Calif. (photographed remotely) — "You have to value the relationships you have with people a lot more and the time and effort that it takes to put into (them)," Elbert Moon said.
Moon saw friend circles, which were affected by being away from the UC Berkeley campus, simultaneously shrink and draw stronger and closer. 
"It means a lot if someone's reaching out to be like, 'Hey, how are you doing? Can we talk?' even if it's a Zoom call for three hours," Moon, a fourth-year history student, said. "I want to continue that same kind of energy and dedication to keeping these relationships alive."
---
What would you want your future self to remember about this moment?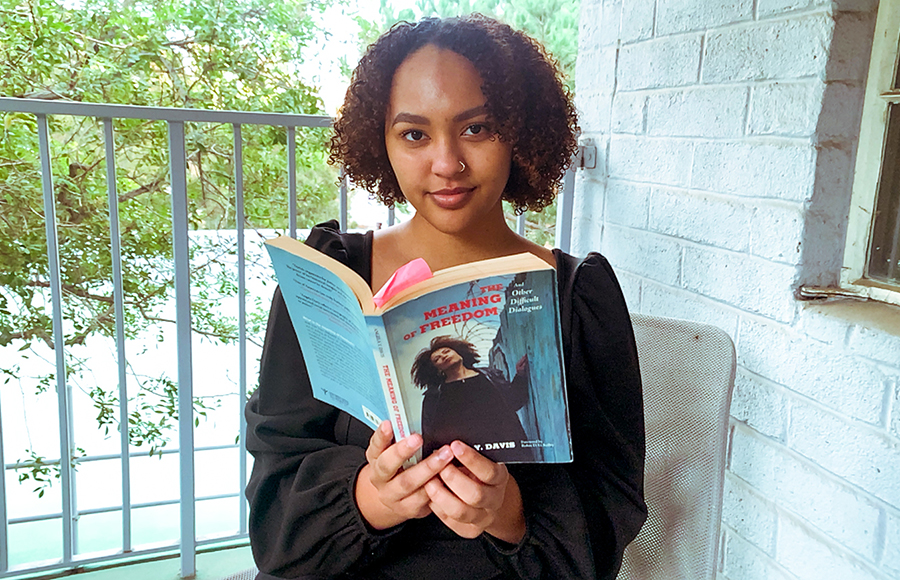 Justin Jung/Daily Bruin senior staff
LOS ANGELES (photographed remotely) — As president of the Undergraduate Students Association Council at UCLA, Naomi Riley faced the expectations of office in a historic year. Amid turbulent times, Riley hopes her future self remembers that her sacrifices are not setbacks but progress.
Having entered 2020 with plans to apply to law school that year, the fourth-year political science student made a tough decision to set those plans aside, dedicating herself to advocating for the Black Lives Matter movement. Riley said she felt pressured by the examples of both her predecessors and her peers to try to do everything at once, until she realized it's not a competition.
"I'm running my own marathon," Riley said. "It's not a race against others. I'm really … trying to be the best person that I can be for the communities that I want to impact in the future."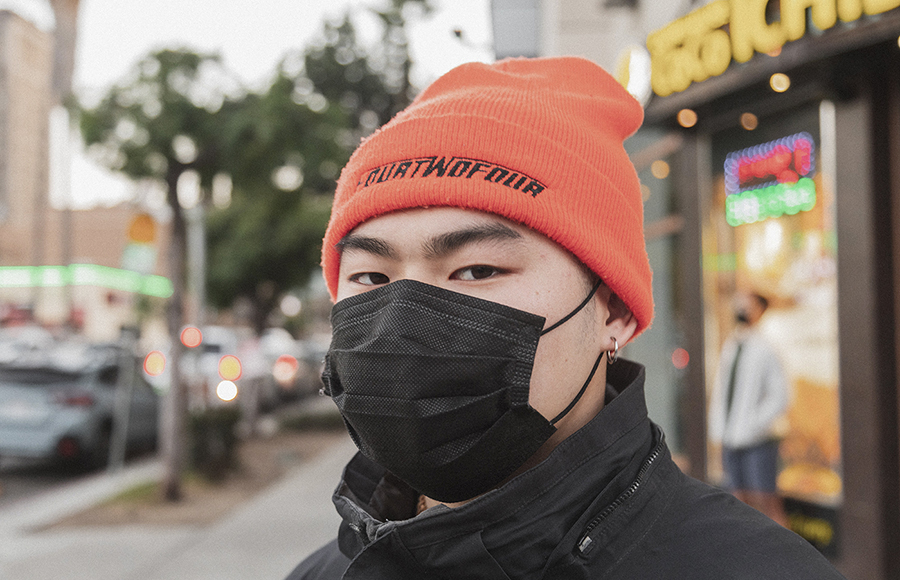 Ethan Lejano/The Daily Californian staff
MONTEREY PARK, Calif. — Michael Shiozaki, a fourth-year gender studies student at UC Berkeley, has experienced an array of emotions throughout the COVID-19 pandemic. Shiozaki has faced frequent mental health challenges and leaving Berkeley to move back to Monterey Park left "Shio" in a unique position. 
Shiozaki said he would want his future self to remember to be transparent because people don't care about the details. 
"Once you accept yourself, it's easier to be yourself," Shiozaki said. "Actually be yourself." 
He also explained his experience coming out on his 21st birthday.
"Once I was able to see how my friends were able to accept me, I felt like me. When I came out, I found comfort," Shiozaki said. "This year was one for the books, but I'm just happy I'm alive. And proud."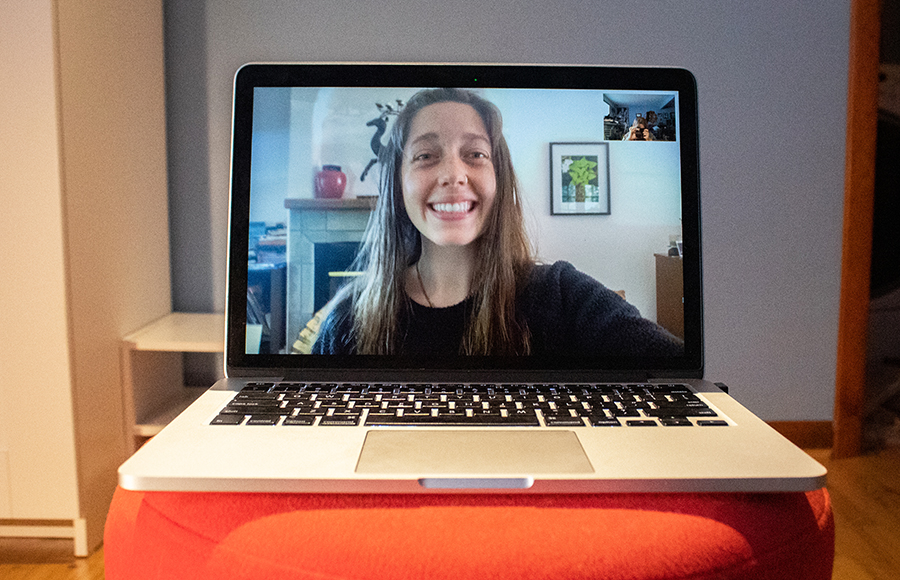 Lisi Ludwig/The Daily Californian Photo editor
INVERNESS, Calif. (photographed remotely) — Skyler Pemberton, a UC Berkeley sociology student, left 2020 hoping to remember to stay in a growth mindset and be a student for the rest of her life. 
Pemberton feels compelled to stay open to constantly reflect on herself, noting how older people tend to stick to certain ways of living and carrying themselves. 
"How am I being stubborn in my ways? How am I not in a growth mindset?" the third-year student said. "You can learn from every situation. If something is hard for you, that means it's like a growing pain."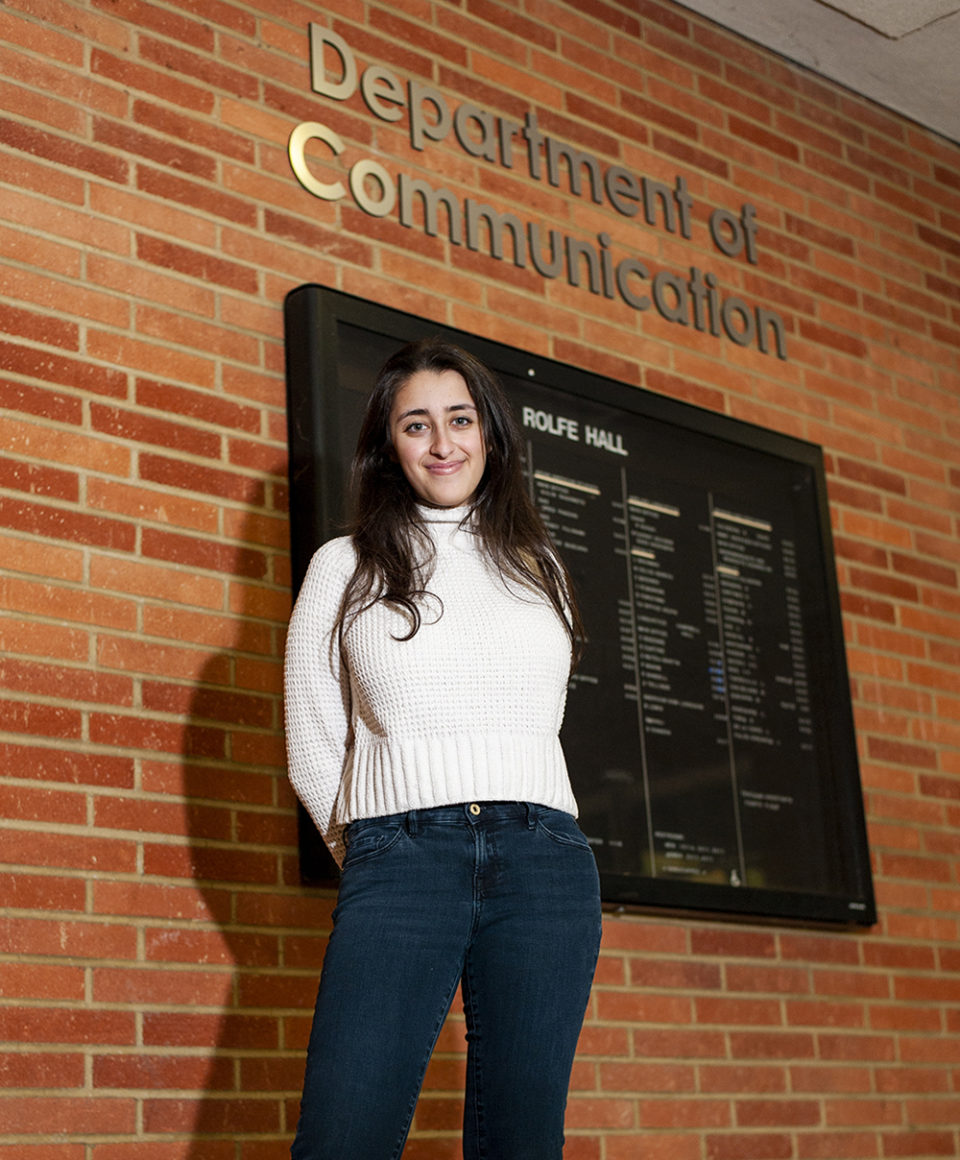 Chelsea Westman/Daily Bruin
LOS ANGELES — Third-year communication student Tiffany Rahban reflected on how this school year has been a hurdle. According to Rahban, once things get better in the future, everything will be a bigger celebration, including parties themselves. 
"My future self will probably want to remember that even though it's been a tough time, I've been able to get through it," Rahban, a student at UCLA, said. "I'm sure everyone as well has gone through a tough time, and I feel like just going through this year alone is like a success."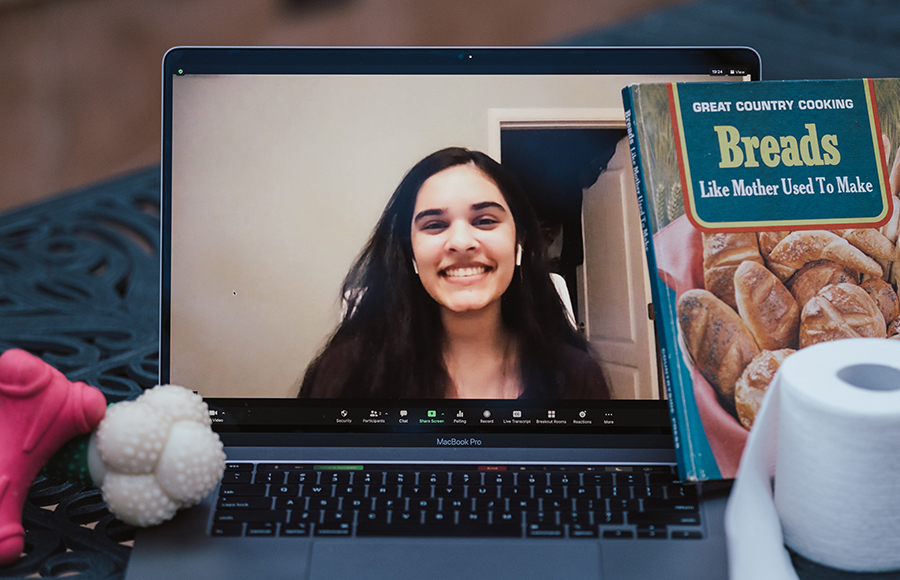 David McAllister/The Daily Californian deputy Photo editor
HERNDON, Va. (photographed remotely) — Second-year UC Berkeley computer science student Riya Dabbi has experienced the turbulence and disappointment many others have confronted in the past year. As she spent her fall 2020 semester at home, she reflected on a major source of her happiness: her friends.
"The biggest thing that I would want my future self to remember is just to notice the people around me and especially the bonds that I made throughout this pandemic," Dabbi said. "I got a lot closer with the people that were very important in my life, and people who weren't as important drifted away."
As she continues in college, Dabbi said she hopes to further develop and cherish her friendships.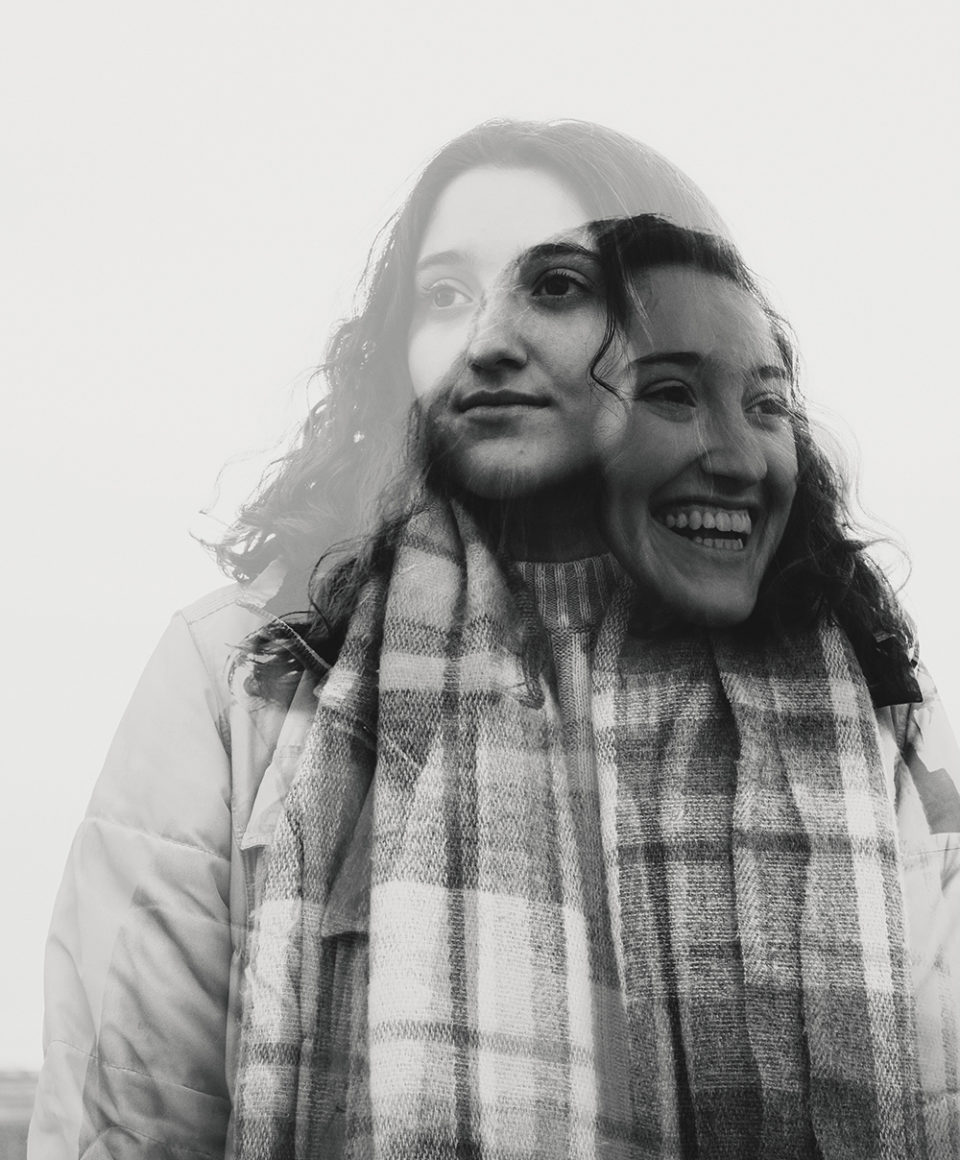 Photo illustration by Courtney Quirmbach/Daily Bruin
BOSTON — Rachel Alexander, a second-year UCLA student, had lots of time to think and reflect this year because of the COVID-19 pandemic. She realized that self-awareness was key to building a healthy relationship with herself and others. Additionally, Alexander wants her future self to remember how to be flexible, adaptable and open minded to the world.
"That's been a big part of COVID for me: … learning to adapt to whatever situation is happening globally or nationally or even with family and friends," Alexander said. "To know how they are feeling and how that changes, (and) thinking about how I can best help them and support myself."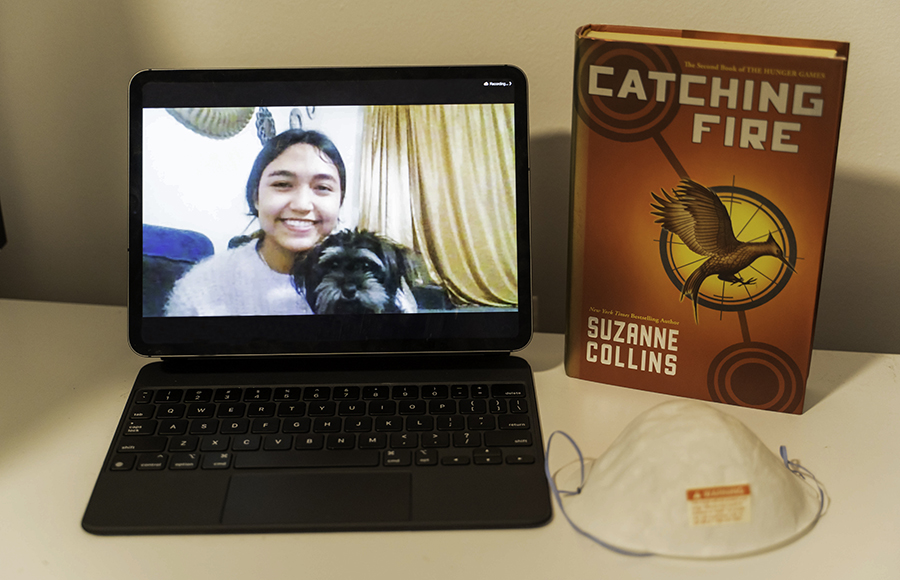 Antonio Martin/The Daily Californian deputy Photo editor
CALEXICO, Calif. (photographed remotely) — Rebecca Moreno, a second-year student studying psychology at UC Berkeley, has come to appreciate the little things, such as having time with family. Moreno also said she has learned to adapt to arising situations and has grown tremendously as a person.
"I am finding the joy in things that I used to take for granted, like my dog and my sister," Moreno said. "I had already gotten used to the freedoms I had while away at Berkeley, so I had to learn to make sacrifices and adapt to this change in my life."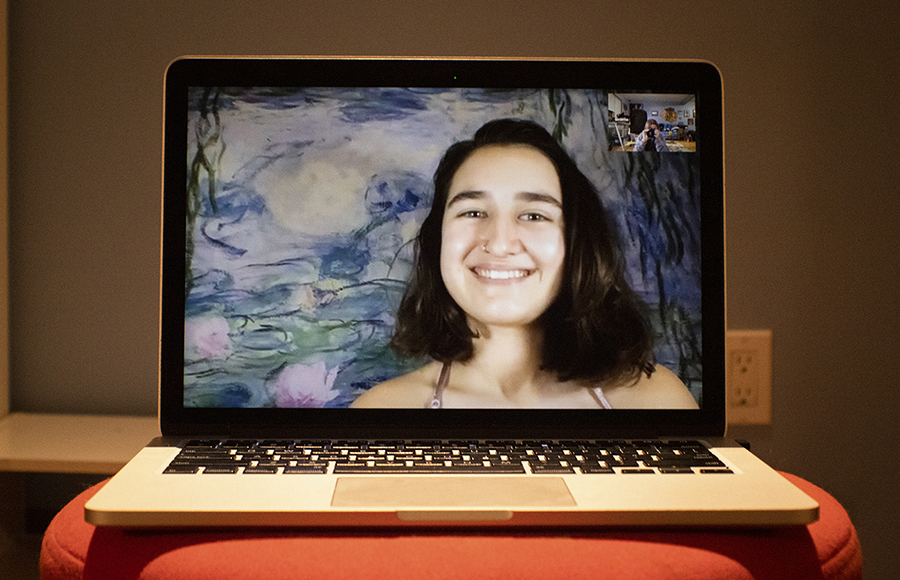 Lisi Ludwig/The Daily Californian Photo editor
BERKELEY (photographed remotely) — "I want myself to remember that I was responsible during this pandemic," Cedar Casper said.  Living in a co-op in the fall with 27 housemates, Casper has made health and safety be of top concern, priority and relevance. 
"I got tested twice a week," Casper said. "I did not put others at risk, and that's one of the greatest things I can be doing right now." Having entered as a transfer student, Casper will graduate in the spring with a degree in gender and women's studies.
---

A note from the editors:

The 20 on '20 project was created as a virtual time capsule, reflecting the sentiments of 20 college students.
As you can see, the tracks of experiences sometimes ran parallel but, undoubtedly, no two people had the same experience in 2020 — the best reminder to us that it is difficult to boil down such an impactful year into a single project.
Above all, we hope these portraits demonstrate the spectrum of change that 2020 brought and inspire others to reflect on students' takeaways from the last 12 months.