As we all grudgingly packed our things after winter break and headed back to the world of 8 a.m. classes, no fireplaces, coffee out of cups instead of mugs and dining hall food, the Clog thought no one could more accurately depict our pain and sorrow than the infamous Michael Scott from "The Office." Here are the most common responses to some events during the first week of classes. Warning: The images below may incite feelings of fear and despair.
The first classes usually aren't as challenging as they are filled with introductory material and office hour details. We all know, however, the panic when a class nears its end time and we wait in anticipation to see if the professor gives any homework for that week. And when the professor does…
Then comes the part of the day when we go home and look at the homework problems. This is also the part of the day when we may rip out our hair or consider becoming an apprentice.
But then your attempt to do homework is interrupted by your roommate coming home. And all of a sudden your body is filled with pure joy and excitement and you tackle them like you've been playing in the NFL your whole life.
This is most likely your reaction when it starts raining spontaneously and you are left unprepared, with no umbrella and no rain boots. The rain soaks your Converse and…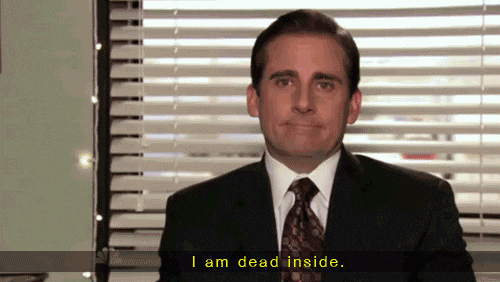 You wander around the Valley Life Sciences Building aimlessly, hoping the room number listed on your schedule suddenly appears. Fifteen minutes later, you give up and walk into the wrong class.
The first day of class is finally over, and your roommate and you are exchanging highlights of the day.
It's only the first week and TeleBEARS already doesn't work.
Here's to hoping the second week of classes won't need to have any Michael Scott gifs to accompany it. Except maybe this legendary one.