For a while now, I've had a strange fascination with the graffiti messages people write. Some are blatantly comical to the point of ridiculousness, while others are angsty confessions of unrequited love or hopeless questions of identity. Occasionally, I stumble upon nuggets of wisdom:
It's an inspiring statement. It's genuinely effective until my instincts as a copy editor get the best of me. At that point, I realize that two incorrect letters simply can and will sabotage the emotional impact of the whole sentence. The good news is that somebody has recently taken responsibility for pointing out the errors: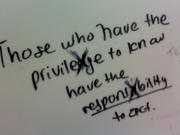 Better yet, another individual has kindly added some advice: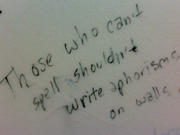 And I must admit, that person makes a good point.